Disinfect your home from mold spores
Licensed certified specialists for mold remediation services in Dallas
We can handle any remediation work
Over a decade in the restoration and water removal field
There are tens of thousands of people in need of mold remediation in Dallas, Texas. This is a function of the extensive mold growth in the North Texas region and constitutes a well-known and widespread problem.
It affects tens of thousands, if not hundreds of thousands of residents and businesses in Dallas, and could even be affecting your property right now.
You can chalk the severity of the situation to our famously (or perhaps infamously) humid, scorching summer months.
All these outbreaks can range from minor to severe, but no matter the scale, they are a nuisance, a health and safety threat, and a veritable plague to denizens all across the area.
While some people have become complacent with the problem, it is of vital importance to your health and safety that you always stay on top of whatever toxic or perhaps even lethal substances may be growing on your property.
Hire only a clean up mold expert that is licensed, insured and has advanced equipment to provide you with a detailed estimate and explanation of what needs to be done to avoid any extra structural damage.
Outlined below are some of the reasons for this, including what you can do now to help.
The Climate And Dallas Mold Remediation Needs
Scientists and experts in Mycology from around the world all agree on one unfortunate fact; North Texas is perfectly suited to the growth and proliferation of dozens of species of mildew and mold and highly exposed to mold damage.
Due to the weather conditions, these infestations can spring up in a multitude of locations, both natural and manmade.
Spores can fester and grow In the spaces between walls, in damp corners, and of course between tree roots and cause a musty odor.
If left unchecked, the colony can continue to spread across wide areas, conquering and contaminating every surface they come into contact with.
Leaving this problem unchecked in our section of the world is a grave mistake and will result in the issue growing in size exponentially and high costs to replace affected components.
Finding Mold In On Your Residential Property
Finding any amount of mold anywhere is cause for serious alarm. Whether you think you have a problem emerging, or are pre-emptively trying to get on top of it by searching for early mold problems, here are some of the areas that are the most common for mold to grow:
Between walls
In bathrooms
Under recently laid floors
Around water damage
Near standing pools of water
In humid rooms (such as in a room where an obstructed dryer vent causes a high degree of humidity)
Crawl spaces
If you find mold, it's important to keep a few things in mind.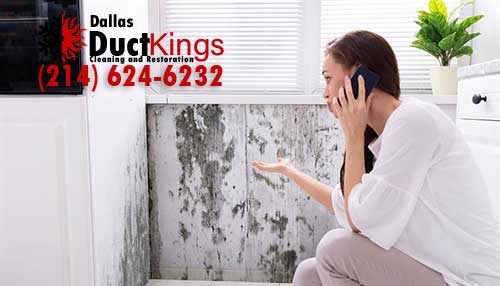 Firstly, it's a common misconception that "black mold" is necessarily lethal. The International Mycology Institute recognizes dozens of molds with black color that are harmless, many of which grow in the DFW area.
Secondly, there are hundreds of species of extremely dangerous, toxic, or even lethal molds that do not have a black color at all.
If you have any mold growing anywhere, it's vitally important that you call The Duct Kings of Dallas now and remedy the issue.
Our Mold Removal Expert's Qualifications
When you first locate the mold or smell mold odor, you may feel the temptation to try and fix the issue yourself. After all, we've all cleaned surfaces before; however, this would be unwise.
Depending on the species of mold, exciting it through physical contact will cause its spores to be released into the air.
These can enter your lungs if you lack the proper equipment, or they could settle on other surfaces and continue to grow and spread.
Our veteran technician experts in Dallas at The Duct Kings of Dallas have all the necessary equipment to provide the air duct cleaning services, dryer vent cleaning and of course mold mitigation and are even licensed by the State of Texas to handle this specific problem.
We have refined the mold remediation process, mold inspection and mold testing to a science and are standing by attentively to come to your property and get the job done right.
Our Removal And Remediation Process
It can be hard or even impossible to determine what species of mold is growing through eyesight alone, and so we rely on chemical testing from other organizations.
After the first environmental company assesses what exactly there is growing on your property, then the work can begin.
We here at The Duct Kings of Dallas don't want to pull the wool over your eyes, and so are more than willing to let you know what's happening to your property at every step of the mold assessment and mold damage repair process.
The method used will have to change based on the specific conditions of your situation, but here is a rough outline of what to expect.
Examine Mold Damage – After knowing exactly what it is that we're dealing with, our technicians will inspect the area to determine how widespread the damage is.
Removing existing mold – Then, our experienced crews will come out and immediately extract all the water from the area.
Isolate affected area – Following that, our restoration crews will often protect the surrounding areas with containment sheets of some kind to prevent spores from drifting through the air to around other parts of the property
Removing mold growth – The crews will then begin to dispose of any contaminated materials or items in the vicinity, such as clothes, paper, or even stuffed animals
Air condition system treatment – The air conditioning and HVAC system is then treated to make sure no spores will continue to travel through the airways
If necessary, we will use advanced moisture meter equipment followed by remediation, such as replacing contaminated insulation, deep scrubbing, disinfecting walls and removing mold from any affected components.
Finally, the crews will take down the protection and do a final pass of cleaning to make sure everything is safe and clean.
Mold Services In Dallas For Residential Commercial As One
Mold remediation is in need by North Dallas residents and all over the DFW Metroplex by all sorts of people, and as such, our Texas department mold and water damage restoration professionals had business experience with clients across the entire spectrum.
We've helped large corporations in Carrollton, Frisco, Garland and North Dallas who do business with thousands of customers daily, to small homeowners in Dallas, TX and surrounding areas.
We've helped people with massive infestations in need of severe remediation, to people who responsibly got on top of the problem before they lost control.
However big or small your business is, however, sprawling or miniscule your mold problem is, Our mold removal experts have the equipment, and the know-how to tackle it on every front.
Call our friendly offices now for any residential or commercial mold remediation and make sure every person who spends any amount of time on or on your property isn't put at risk, and that everything that needs to be sanitary is such.
Click here to find out more about our services.